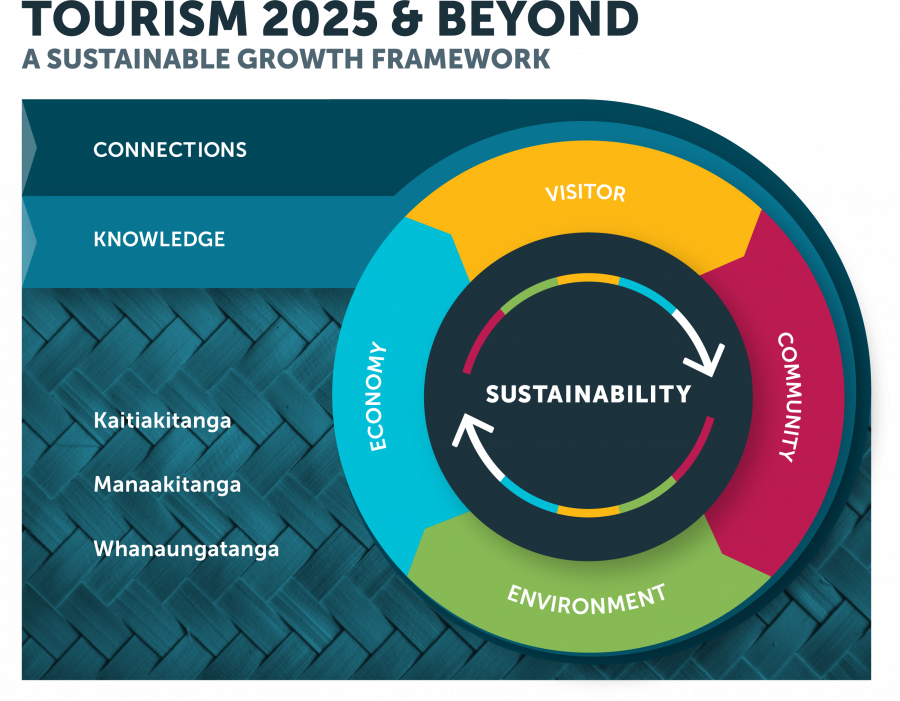 Values
By embracing these values, we will achieve our 2025 vision of a sustainable tourism industry that benefits New Zealanders:
Kaitiakitanga - guardianship and protection of our natural, built and cultural resources for the benefit of current and future generations.
Manaakitanga - showing respect, hospitality, generosity and care for others.
Whanaungatanga - a sense of family and belonging: relationships built on shared experiences and working together.
"Tourism should be good for New Zealand and good for New Zealanders."

Richard Lauder, Chief Executive, Wayfare
Framework elements

Sustainability
Leading the world in sustainable tourism
This is the Vision of the Tourism Sustainability Commitment. The tourism industry is achieving economic goals through being a destination of choice for international and domestic travellers. We share the benefits with our communities, while contributing to restoring, protecting and enhancing our natural environment.

Visitor
New Zealand delivers world-leading experiences for both international and domestic visitors
Value is created in the tourism industry by making our visitors increasingly happy with the products and services they experience. People will only pay more if the value proposition for them increases. Tourism must constantly strive to exceed visitor expectations.
Community
New Zealanders understand, support and benefit from tourism operating in their communities
Tourism takes place in the backyards of New Zealanders, so it is essential that this activity is welcomed by our communities. Tourism must be a good citizen - engaging with communities, providing quality employment and using supply chains that benefit the local economy.
Environment
Tourism strongly contributes to protecting, restoring and enhancing New Zealand's natural environment and biodiversity
The tourism industry has the great opportunity to establish a positive and enduring relationship with New Zealand's environment and biodiversity. Tourism must actively strive to contribute to restoring ecology, while reducing its waste and carbon footprint.
Economy
Tourism delivers opportunity and prosperity across the New Zealand economy
Tourism is an important part of the New Zealand economy. It is important that it performs well in terms of creating wealth, supporting successful businesses and quality employment. Financially successful businesses are best placed to advance the other elements of sustainability.
Enablers
Connections
New Zealand tourism is deeply connected to the world, and is aligned and connected as an industry
The pipeline of aviation capacity provides the flow of competitively-priced seats to get to, from and around New Zealand. 'Connections' equally applies to the connections within the tourism industry – how people work, interact and make things happen.

Knowledge
Tourism has the knowledge it needs to inform decisions, enable innovation and manage progress
Quality data, research, analysis and innovation provide the knowledge to enable industry development through offering investment surety, business innovation, and tracking and monitoring insight for effective management.